Tom Bigford Named AFS Policy Director
For Immediate Release: January 30, 2014
Contact: Beth Beard, 301-897-8616 x215, bbeard@fisheries.org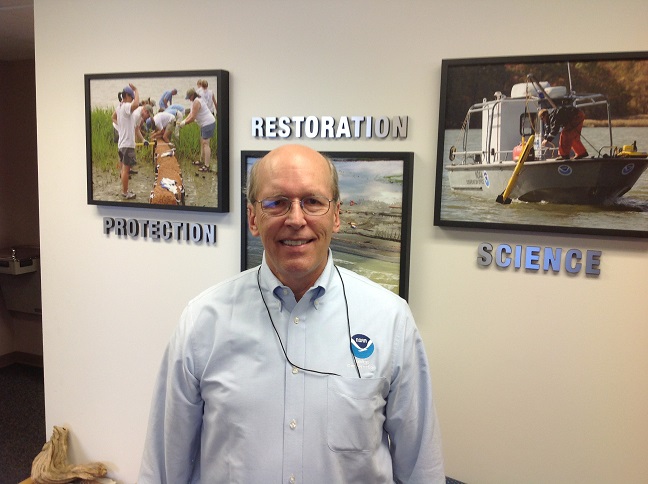 The American Fisheries Society (AFS) is pleased to welcome Tom Bigford as our new Policy Director starting on February 18. Bigford has been Chief of the Habitat Protection Division at the Office of Habitat Conservation at the National Ocean and Atmospheric Administration's (NOAA) National Marine Fisheries Service (NMFS) for the past 18 years. As Policy Director, Bigford will work to develop and implement policies, set new priorities, select opportunities with public and private sector partnerships, and perform outreach.
"We very excited to bring Tom on board in this new position," said AFS Executive Director Doug Austen. "Tom brings a wealth of federal experience in Washington and in the regions. His policy and partnership development work, coupled with his long history of AFS involvement, will help our Resource Policy Committee and our other initiatives."
At the Office of Habitat Conservation, Bigford directed programs related to wetlands, watersheds, fishery management, and special areas such as corals. Previously, he worked at the NOAA Office of Policy and Planning, NMFS Northeast and Northwest Regions, National Ocean Service (NOS) Office of Ocean and Coastal Resource Management, and the NOAA General Counsel for Natural Resources. Bigford is also a docent at the Smithsonian's National Museum of Natural History Ocean Hall, a member of the Board of Directors of The Coastal Society, and president -elect of the AFS Fish Habitat Section.
"This position offers a great opportunity to expand beyond habitat and into the broader realm of anything related to fish," Bigford said. "There are already a number of potential projects on my plate, so my first task is to prioritize those that build AFS relationships with members and partners. I expect to work extensively with the public and private sectors to develop and implement policies to benefit fish. Input from the fisheries community on needs, priorities, problems, etc. would be much valued. I can't wait to start!"
###
Founded in 1870, the American Fisheries Society (AFS) is the world's oldest and largest fisheries science society. The mission of AFS is to improve the conservation and sustainability of fishery resources and aquatic ecosystems by advancing fisheries and aquatic science and promoting the development of fisheries professionals. With five journals and numerous books and conferences, AFS is the leading source of fisheries science information in North America and around the world.