Save the Date! National Workshop on Large Landscape Conservation!
Save the Date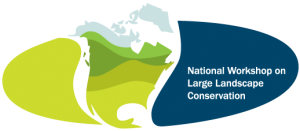 National Workshop on
Large Landscape Conservation
October 23-24, 2014
www.nwllc2014.org

Ronald Reagan Building and International Trade Center, Washington, DC
_____________________________________________________________________________
Featuring keynote addresses by:
Secretary of the Interior Sally Jewell (invited)
Secretary of Agriculture Tom Vilsack (invited)
_____________________________________________________________________________
Conservation innovation is woven through our nation's heritage. It is today and will be for decades and centuries to come an essential element of our future. Large landscape conservation is a fresh approach to the conservation challenges of the 21st century, linking public, private, non-profit and academic resources in novel, strategic, and enduring ways.
Join conservation practitioners and policy makers from across North America at this two-day event to share ideas on the challenges and opportunities that lie ahead in implementing large landscape conservation, as well as the most effective tools, strategies and science available today to inform large landscape initiatives.
Call for Proposals
The program committee invites you to submit a proposal to present at the National Workshop in October. Conference organizers are especially interested in outcome-based sessions and symposia that will result in products such as white papers, summary reports, or recommendations from the session.The program will emphasize lessons learned and best practices in every aspect of large landscape conservation start-up, implementation, management, and assessment.The program committee is looking forward to seeing proposals for symposia, panels, and presentations related to the following thematic topics:
Managing Projects for Successful Outcomes
Measuring Outcomes and Evaluating Performance
Water Conservation and Water Management
Science, Decision Support, and Information Management for Landscape Scale Conservation
Starting up and Sustaining Large Landscape Conservation Projects
Climate Change and Climate Smart Conservation Strategies
Metropolitan/Urban and Regional Conservation Initiatives
New Media
Traditional Ecological Knowledge
Submissions are due by 5:00 PM PDT on June 27, 2014.
 Organizing Partners
American Fisheries Society

American Ornithologists' Union

Amigos de Los Rios
Chesapeake Conservancy
Chicago Wilderness
Heart of the Rockies
Landscape Conservation Cooperatives
Lincoln Institute of Land Policy
Living Landscape Observer
Metropolitan Greenspaces Alliance
Practitioners' Network for Large Landscape Conservation
U.S. Department of Agriculture – Natural Resources Conservation Service
U.S. Department of Agriculture – Forest Service
U.S. Department of the Interior – Bureau of Land Management
U.S. Department of the Interior – Fish & Wildlife Service
U.S. Department of the Interior – National Park Service
U.S. Department of the Interior – U.S. Geological Survey