News Bits – Monday, July 28, 2014
AFS Member, Dr. Gregory Skomal, the Shark Whisperer, Talks Sharks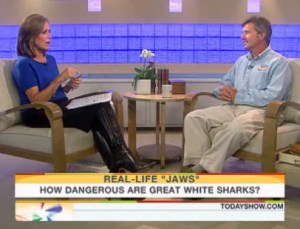 here in this article and again at the AFS Annual Meeting in Quebec, with his paper entitled: Broad and Fine-Scale Movements of White Sharks in the Western North Atlantic Derived from Multiple Technologies)
AFS Member, Dr. Kevin Stokesbury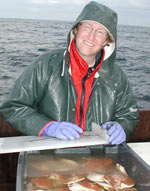 Celebrates a $450,000 State Grant for Possible Groundbreaking Fisheries ResearchStokesbury said that his objective is to raise scientific accuracy to eliminate uncertainty and allow higher catch quotas. Rather than see data interpreted by a half dozen bureaucrats, it is already becoming possible for everyone to see and count the fish with their own eyes. Click to read more.
These photos of Hawaiian plastiglomerate on Kamilo Beach show the different sources of plastic that can go into their formation. A sub-rounded fragment containing basalt clasts, molten plastic, yellow rope, and green and red netting is shown in (A). In (B), portions of black and green plastic containers adhered to basalt fragments and are connected by netting. A fragment containing plastic pellets and "confetti" with woody debris is shown in (C), and (D) shows an adhered mixture of sand, black tubing, a bottle lid, "confetti," netting, and part of a plastic bag.
(Source: GSA Today)
Some truly weird news includesthe formation of a new geological material found on Hawaiian beaches called "plastiglomerate," formed of plastic particles combined with rock fragments and beach sediment. Click to read more. 
Deep-sea cameras reveal commercial fisheries having little impact on seafloor biodiversity
The Australia Antarctic Division has developed a new system of deep sea cameras to explore the impact of commercial fishing on biodiversity. They spent eight years studying the seafloor in the Heard Island and McDonald Island Marine Reserve in the Antarctic waters of the Southern Ocean, south-west of Australia. Scientists found it in an almost completely pristine condition. The cameras show 98 per cent of sensitive seafloor biodiversity remains pristine after 16 years of commercial fishing. Click to read more.
More lake GPS information now available from the DNR"Just because you are sitting over the structure doesn't mean they are going to bite," he says. "It seems like it can be more frustrating sometimes when you have all the technology available. You can see the fish there, you can see your lure there and they are just looking at it." Click to read more.
Mediterranean Anchovies Thriving … in Britain  (Newser) – A man fishing off a pier on Britain's east coast was surprised to haul in something he hadn't caught before in 40 years of fishing—a Mediterranean anchovy. "The water has been unusually clear, and we noticed the fish in good numbers in the shade below the…. Click to read more