Infectious Diseases of Fishes in the Salish Sea
Infectious Diseases of Fishes in the Salish Sea
Paul Hershberger, Linda Rhodes, Gael Kurath, and James Winton

ABSTRACT: As in marine regions throughout other areas of the world, fishes in the Salish Sea serve as hosts for many pathogens, including nematodes, trematodes, protozoans, protists, bacteria, viruses, and crustaceans. Here, we review some of the better-documented infectious diseases that likely contribute to significant losses among free-ranging fishes in the Salish Sea and discuss the environmental and ecological factors that may affect the population-level impacts of disease. Demonstration of these diseases and their impacts to critical and endangered resources provides justification to expand pathogen surveillance efforts and to incorporate disease forecasting and mitigation tools into ecosystem restoration efforts.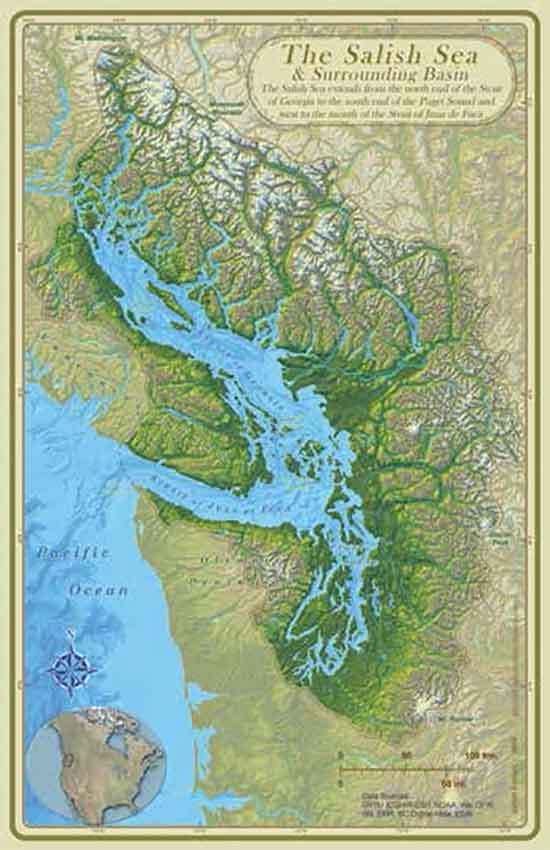 Enfermedades infecciosas en los peces del mar de Salish
RESUMEN: Tal como sucede en las regiones marinas de otras partes del mundo, los peces del mar de Salish hospedan cantidad de patógenos, incluyendo nematodos, tremátodos, protozoarios, protistas, bacterias, virus y crustáceos. En este trabajo se hace una revisión de algunas de las enfermedades infecciosas mejor documentadas que muy posiblemente contribuyen a la pérdida significativa de peces en el mar de Salish y se discuten los factores ambientales y ecológicos que pueden influenciar los impactos de la enfermedad a nivel poblacional. La demostración de estas enfermedades y sus consecuencias en recursos críticos y amenazados, justifica expandir la vigilancia sobre patógenos e incorporar un pronóstico de enfermedades y herramientas de mitigación en los esfuerzos de restauración de ecosistemas.
To cite this article: Volume 38, Issue 9, Fisheries, 38:9, 402-409
To access this article: http://dx.doi.org/10.1080/03632415.2013.839439


AUTHORS:
Paul Hershberger
U.S. Geological Survey, Western Fisheries Research Center, Marrowstone Marine Field Station, 616 Marrowstone Point Road, Nordland, WA 98358. E-mail: phershberger@usgs.gov
Linda Rhodes
Northwest Fisheries Science Center, National Marine Fisheries Service, National Oceanic and Atmospheric Administration, Seattle, WA
Gael Kurath and James Winton
U.S. Geological Survey, Western Fisheries Research Center, Seattle, WA