Giant Sea Bass Research
Brian Clark (also known as JR) is one of AFS's newest members and he's doing something very cool.  He has kick started some funding for his research and is reaching his goal. He's investigating the mating strategies and behavior of Giant Sea Bass. They have been largely overfished since the late 1800's, causing them to land on the IUCN Red List as critically endangered. Despite its popularity, few studies have been done and much of what is known is speculative. Researching mating strategies allows for better understandings of the functions of this mysterious beast and is vital to its preservation. Click here to help fund this Giant Sea Bass research.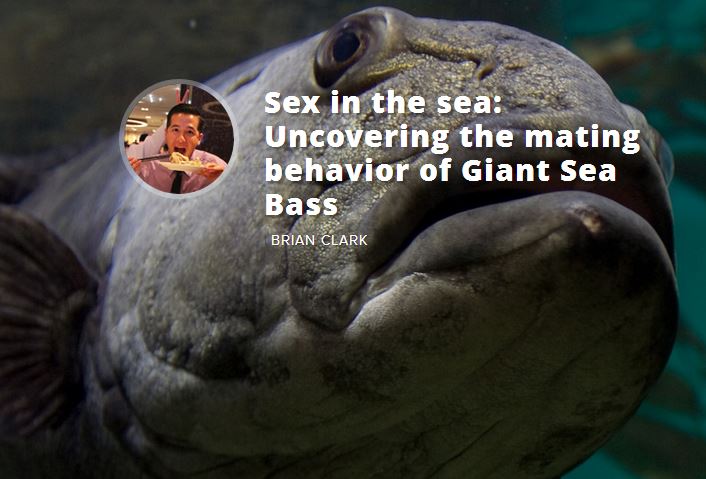 What is the context of this research?
Giant Sea Bass, Stereolepis gigas, are found along the eastern pacific coast from Gulf of California through Homboldt Bay, although primarily seen in southern California.They are highly susceptible to overfishing and for being such a popular trophy fish and having such ecological importance there is very little scientific research done on them.
I will be investigating the reproductive behaviors and mating system of Giant Sea Bass with hopes to aid in the preservation of this species. This will be the first study to look at the strategies and behavioral aspects of reproductive within the family Polyprionidae.
Sound production has been seen to correlate with courting and spawning in other species (2). A data-logging hydrophone (underwater microphone) will be used to monitor these fish acoustically. With the passive acoustic data obtained from this hydrophone I will identify highs and lows in sound production throughout each day. I will then interpret this to find peaks in densities/time of day when spawning occurs, abundances at the spawning site, comparing sound frequency to observations of courting and spawning.
Click here to help fund this Giant Sea Bass research.
What is the significance of this project?
Giant Sea Bass are on International Union for Conservation of Nature (IUCN) Red List as a critically endangered species (1) and due to having low genetic diversity in danger of extinction.
Reproductive strategies lay the foundation for an organism's success. Understanding these strategies and behaviors will aid in the preservation of the Giant Sea Bassand lead to more studies on temperate (cold water) marine fishes and apex predators.
Click here to help fund this Giant Sea Bass research.
What are the goals of the project?
The goal of this study is to describe the reproductive behaviors of Giant Sea Bass, S. gigas, at Santa Catalina Island, California.
Understand residency at spawning sites, this will allow us to know relative abundances at breeding sites.
Compare fish abundance and courtship behavior to sound production, this is important because it gives insight about the number of fish involved, time of day, and how courting is done.
Observe spawning behaviors in the field
Click here to help fund this Giant Sea Bass research.
Budget
DSG-Ocean Acoustic Datalogger- is a long-term hydrophone (underwater microphone) essential for getting the most accurate results, allowing me to analyze mating strategies and describe spawning behavior of giant sea bass in detail.
I also need to feed my field assistant! I know they would just to eat peanut butter and Oreos all summer with me (that's my field food), but maybe a pizza would be nice from time to time.


Stretch goals
Extra funds will be used to purchase supplemental equipment to ensure the validity of the data.
Underwater video cameras will be used for visual observations
Hydrophones (connected to video cameras) to validate the sounds heard made by the giant sea bass.
iButton- Temperature Datalogger will allow for continuous temperature readings
Click here to help fund this Giant Sea Bass research.