Getting in the Swim of Things
AFS executive director Doug Austen on his new role and vision for the Society
Doug earned degrees in fisheries sciences at South Dakota State University (B.S.), Virginia Tech (M.S.), and Iowa State University (Ph.D.). After completing his formal education, he held positions with the Illinois Natural History Survey, the Illinois Department of Natural Resources, and served for six years as the executive director of the Pennsylvania Fish and Boat Commission. Prior to coming to AFS, Doug was the national coordinator of Landscape Conservation Cooperatives for the U.S. Fish and Wildlife Service.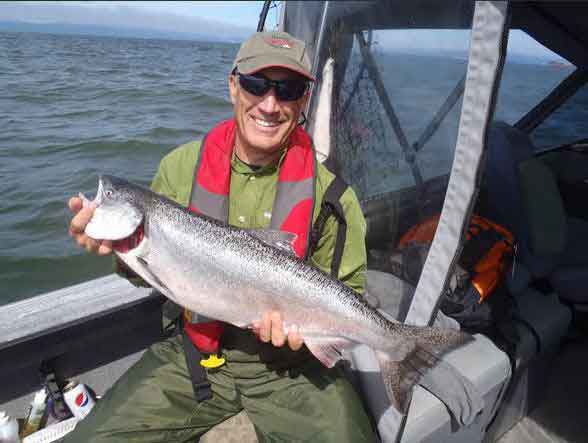 Doug Austen holding a King Salmon caught on Oregon's Columbia River. Photo credit: Jim Martin.
We caught Doug Austen coming back from a jaunt to the Conodoguinet Creek with his two English Springer Spaniels— Cooper and Bailey—and managed to interview him (with the occasional "the dog just stepped on my leg" sentence interjected here and there). He was relaxed, on vacation with his family (wife, Lezli, and their fourteen-year-old twins, Ally and Zach), and getting ready to come on board as the new AFS executive director. But consider this. AFS is in a huge transition period; it's managed to get through the thick of the economic crisis and remain in the black, shore up its web presence, turn Fisheries magazine into a high-impact factor journal cum membership magazine—but now there's a need to put more focus on our newer members who live in a vastly different world than the members who signed on twenty (or even ten) years ago, all while helping them in their vocations, and still continuing to maintain our solid reputation and keeping with the objectives in the AFS Constitution. That's a tall order. But Doug comes with energy and a healthy respect for this need for change. And, maybe most important of all, he's a fish guy. So how does he see his role in this new process of securing the Society's cur- rent and future relevance in the fisheries community and in broader contexts? Read our interview with Doug and see why past-president Don Jackson said, "Doug is a heck of a fine guy. We're lucky."
Bowzer/Trushenski: Growing up in the suburbs of Chicago, what were your early fishing experiences?
Doug: I'm not sure that my Dad really was interested in fishing but he took me because I really wanted to fish. We went fishing on family vacations and an occasional trip to Midwest locations like Lake Michigan, Wisconsin's Wolf River, and Michigan's St. Joseph River. Most of my local fishing was in pretty unglamorous highway borrow pits and area ponds, and about the only thing I caught was stunted bluegill, carp, and maybe a rare bass, but I was hooked.
Bowzer/Trushenski: In high school you knew you wanted to be a fisheries biologist, but did you even know what that might entail?
Doug: It's funny, but back then you would ask guidance counselors about fisheries biology and they would look at you with this dumbfounded expression. They just had no idea what that meant. Now they probably still don't know, but can do an Internet search and figure it out.
Bowzer/Trushenski: Your fisheries career has been broad— geographically and experientially—so how do you see the world of fisheries having changed from then to now?
Doug: People are not necessarily getting into the fisheries field for the same reasons that they used to. Fisheries used to attract primarily anglers and others actively using the resource, but in today's classrooms and agency rosters, you're more likely to find people who were drawn to fisheries by more general interests in conservation, ecology, or environmental issues.
Bowzer/Trushenski: Do you believe this transition will help drive positive changes in our profession?
Doug: Yes. It will create greater diversity in terms of perspectives, expertise, and values, as well as gender, race, and ethnicity—and it will affect our Society in the same positive way. Our diverse pool of expertise provides the Society with tools needed
to tackle contemporary and future challenges as they arise. Our role, as a Society, is to pull together the state of the science, explore how complete or incomplete it is, and give voice to our members' perspectives. Many of these issues are too complex to be resolved in the short-term, but the very exercise of wrestling with the issues—which the Society can do in a neutral way—is valuable in understanding and moving the dialogue for- ward without devolving into taking sides.
As far as I'm concerned, students aren't the AFS of the future; they're the AFS of right now.
Bowzer/Trushenski: You're a self-described "fish guy." That's important. You're well positioned to communicate the value of fisheries and AFS to the public, to strengthen existing lines of internal and external communication, develop new vehicles for education and outreach, and empower our members to do the same. What are the priorities on Doug's to-do list?
Doug: Certainly, my career started out as being a fishery biologist and that was the focus for many years, but it also included work on large collaborative efforts such as MARIS (the Multistate Aquatic Resources Information System), the National Fish Habitat Action Plan, and recently the Landscape Conservation Cooperatives (LCC). Along with time in some leadership roles and involvement in state and federal capital politics, I hope that I can bring some helpful perspectives and experiences to AFS. People see AFS as conveying an unbiased, impartial message that is based on science. We can continue to do that through Fisheries and our other peer-reviewed publications, our website, briefings, and by developing partnerships with mainstream media and other groups with common interests. Organizations interested in aquatic conservation—and there are many—look to us to provide credible, science-based information. By partnership and by retooling our existing modes of communication, we can create a broader circle of influence.
Bowzer/Trushenski: You sound committed to challenging yourself and all fisheries professionals to remember what brought us to fisheries in the first place, what our connection to the resource is, and to give some of our best back to the profession and the Society. What do you mean by "best?"
Doug: Is your best doing science, mentoring students, and publishing in our journals? Then do that and do it at the highest level you can. Is it being the best person at the front of the shocking boat or doing field work? Then do that, and maybe consider showing someone else what you know along the way. It's then the Society's responsibility to create a receiving environment, make members aware of opportunities available to them, give them room to be their best, and help them realize a real return on their investment. We must be able to engage groups via dialogues and teams… create a series of events and conversations where we accomplish something.
Bowzer/Trushenski: What is your philosophy about students?
Doug: As far as I'm concerned, students aren't the AFS of the future; they're the AFS of right now. Students provide different perspectives, ways to communicate, and philosophies that need to be part of the conversation. There's always some tension be- tween students and younger members and the old guard at AFS. That happens in virtually every organization. It's a little bit of a generational thing, along with changes that have taken place over time. But this can be a very healthy issue. These younger members want to know what AFS is going to do to open doors for them that will allow them to make their life better or richer. They're less enthralled with the fact that we've been around for hundreds of years. They want to be with organizations that can make a positive impact on the resource—and there are many good groups doing excellent work out there. For example, look at all the information that people can get now via blogs, electronic newsletters, dynamic web sites, and much more. How much have we done to address this for the younger generation or, for that matter, for all members? I'm not sure we've done nearly what we can or should. We may not be connected in what their needs are. It's different than it was when I was a younger guy. When I talk to them, they tell me they haven't heard from AFS in years. They get nothing. "I let my membership expire," they say. What should we be doing to really help them in their career that fits in with the realty of their situation? What is it that we should be doing that will help them? I'm not sure we really know, but it is my priority to find out.
Bowzer/Trushenski: You will have to be quite a leader to get this done. How do you lead? What are your challenges?
Doug: My favorite definition for leadership is "making change happen at a rate that people can accept." Don't shy away from it, but also don't cram it down people's throats, unless, of course, there is something so important that the society will die if we don't do it. We need to continuously and regularly press forward and do things, in ways that won't break the bank or cause people to think subversive thoughts. Part of our job, particularly my job, will be to help create the conversations at the right time with the right people and target those issues and get the people to buy into the solutions with them. As for my challenges? There are a lot of things I could strengthen about myself. I've got weaknesses all over the place. But what I've been able to do is to find people to work with me and be competent with those things.
Bowzer/Trushenski: We understand that during the interview process you described the concept of "re-setting" the conversation with the membership. What does that mean?
Doug: Like any organization, AFS needs to ensure that it is relevant and of value to its members. There is a great deal of competition for the time, attention, and money of our members: new journals to read and publish in, many other groups that are increasingly effective in carrying the ball for aquatic resources and science, and the general busyness of all of us, etc. What is it about AFS that is unique, that attracts their attention, which responds to a need? What makes someone want to become a member of AFS and contribute to the success of the AFS mission? We need to make sure that we know the answer to these questions—not what the answers used to be, but what they are now and in the near future. We need to understand what is missing in the professional life of our members and how we can address that vacuum. We need to know the kind of information that members need, the best way to deliver it, and the timeliness of that delivery. We need to know how to better provide for the social and professional interaction that is so important but is also clearly and increasingly not supported due to policy issues, budget cuts, and politics. In essence, we need to re-think how we do our job, to re-set a new conversation about the role of AFS. Likely, such a conversation will validate many cur- rent practices, and should also challenge us and demand new approaches.
Bowzer/Trushenski: Tell us how you will go about doing this re-setting?
Doug: First of all, a substantial part of my job is to bring alive the vision of the AFS leadership. The Society's elected lead- ership will be a key part of ensuring that we have a vision of the future that is on-target, energetic, and moves us in the right direction. So I need to understand their vision and help them— in whatever way I can—craft the vision, based upon the best information possible, so we can make it come to life. We will do this, together, through a mixture of spending old-fashioned, face-to-face time with members just talking, identifying needs, and debating options. I would love to visit as many chapters, sections, and divisions as possible in the next year to create as many opportunities as possible for these dialogues. We will also use whatever media we can to engage the many members who won't be able to be a part of these in-person conservations. Our staff has some great ideas for how we can vastly expand our tools to address this need, and I hope to be able to employ those that will be most effective.
Bowzer/Trushenski: We know that one of your core interests has always been professional development of staff. Back in Illinois you invested a great deal of time in creating continuing education programs for the Illinois chapter, you worked on leadership development at the Fish and Boat Commission and actively encouraged staff, including yourself, to be involved in the National Conservation Leadership Institute. How do you see this playing out as AFS executive director?
Doug: Continuing education in the Illinois chapter of AFS was a direct response to a need of the members. In most state agen- cies, those hired come in with a Masters degree and are well educated in the academic sense. They then learn on the job but, unfortunately, that is often the extent of the training provided. States simply don't have the resources or expertise for extensive training programs for agencies as specialized and relatively small as the natural resources agencies. What training the states provide is usually generalized and difficult to apply to the situations that our members find themselves in. The federal agencies are, for the most part, substantially different. Their size and budgets provide for a much richer opportunity for training. The obvious example is the tremendous resource afforded by the National Conservation Training Center, the leadership training that most federal agencies offer, and the tremendous opportunity for short term "details" or other vehicles to provide staff with new experiences. AFS can and does provide an invaluable service in organizing continuing education at multiple levels, but we can and must strive to do more. We need to broaden the opportunities for those with limited access to have training available and be supported in taking part in that training. We need to create more opportunities for members to have new experiences that will enrich them professionally and find ways to support these opportunities. This is critically important if we are to address the challenges we face as our aquatic resources become increasingly stressed.
Bowzer/Trushenski: What exactly is the job of executive director?
Doug: Members should feel confident that someone is there that knows enough about fisheries to be an effective advocate for the resource and the science that is a critical part of AFS. It's important to also recognize that fisheries and aquatic resources management and science are increasingly diverse and specialized. We need to be able to draw upon the AFS membership to engage and benefit from that expertise in order to effectively address the challenges that we face and I hope to be able to do that. Members should get good gains for their investment in the Society. I've been involved in enough national activities that I can be the person for AFS who can go nose to nose with the people in Congress and be able to argue persuasively. I'm an advocate for the resource, and I bring people together who can find solutions to our fisheries resource problems. In this job, I will help to orchestrate opportunities to protect fisheries and aquatic resources. In fact, the first objective in the AFS Constitution is to "promote the conservation, development, and wise use of fisheries." So one of my main functions is to create an environment that will help to ensure that we make the mission and vision of the Society come to life. This includes a wide variety of roles such as finances, effective and creative meetings, excellence in publications and communications, advocating for development and use of sound science, and much more.
Bowzer/Trushenski: Any closing thoughts?
Doug: To me, AFS was how I grew and matured in the profession. AFS has been the source of many of my lifelong friends and continues to be a strong part of my social network, almost like an extended family. AFS has also been a place that creates and facilitates opportunities to work for the resource in ways above and beyond what we can do in our day-to-day jobs or in support of those jobs. AFS is a place that I am thrilled to be working for and I look forward to the years ahead.  Please share your thoughts, concerns, and suggestions with me about anything related to AFS. Or just come say hello. Hearing from our members will always be my first priority.
You can also contact Doug directly at dausten@fisheries.org.
AUTHORS:
John C. Bowzer
Center for Fisheries Aquaculture and Aquatic Sciences, Southern Illinois University Carbondale, Carbondale, IL 62901. E-mail: bowzer.john@siu.edu
Jesse T. Trushenski
Southern Illinois University Carbondale, Carbondale, IL