Flood Effects on Road–Stream Crossing Infrastructure: Economic and Ecological Benefits of Stream Simulation Designs
Abstract: Stream simulation design is a geomorphic, engineering, and ecologically based approach to designing road–stream crossings that creates a natural and dynamic channel through the crossing structure similar in dimensions and characteristics to the adjacent natural channel, allowing for unimpeded passage of aquatic organisms, debris, and water during various flow conditions, including floods. A retrospective case study of the survival and failure of road–stream crossings was conducted in the upper White River watershed and the Green Mountain National Forest in Vermont following record flooding from Tropical Storm Irene in August 2011. Damage was largely avoided at two road–stream crossings where stream simulation design was implemented and extensive at multiple road–stream crossings constructed using traditional undersized hydraulic designs. Cost analyses suggest that relatively modest increases in initial investment to implement stream simulation designs yield substantial societal and economic benefits. Recommendations are presented to help agencies and stakeholders improve road–stream crossings, including increasing coordination to adopt stream simulation design methodology, increasing funding and flexibility for agencies and partners to upgrade failed crossings for flood resiliency, and expanding training workshops targeting federal, state, and local stakeholders.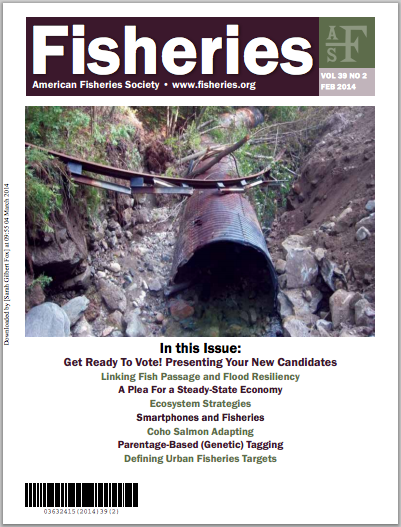 To cite this article: Nathaniel Gillespie, Amy Unthank, Lauren Campbell, Paul Anderson, Robert Gubernick, Mark Weinhold, Daniel Cenderelli, Brian Austin, Daniel McKinley, Susan Wells, Janice Rowan, Curt Orvis, Mark Hudy, Alison Bowden, Amy Singler, Eileen Fretz, Jessica Levine & Richard Kirn (2014) Flood Effects on Road–Stream Crossing Infrastructure: Economic and Ecological Benefits of Stream Simulation Designs, Fisheries, 39:2, 62-76, DOI: 10.1080/03632415.2013.874527
To read the rest of this article: http://dx.doi.org/10.1080/03632415.2013.874527
Efecto de las inundaciones en la infraestructura de pasadizos fluviales: beneficios económicos y ecológicos de los diseños de simulación de arroyos
RESUMEN: el diseño de simulación de arroyos es un enfoque geomórfico, de ingeniería y con consideraciones ecosistémicas en el que se crean pasadizos erigiendo un canal natural y dinámico entre arroyos a través de estructuras de paso similares en dimensiones y características al canal natural adyacente, permitiendo así el paso irrestricto de organismos acuáticos, debris y agua durante distintas condiciones de flujo, incluyendo inundaciones. Se llevó a cabo un caso de estudio retrospectivo acerca de los éxitos y fracasos de la construcción de pasadizos entre arroyos en la parte alta de la cuenca del Río Blanco y el parquet Nacional Montaña Verde, en Vermont, justo después de las inundaciones sucedidas tras el paso de la tormenta tropical Irene, en agosto de 2011. El daño fue en gran parte evitado en dos pasadizos donde se implementó el diseño de simulación de arroyos, no así en distintos pasadizos que fueron construidos mediante el diseño hidráulico tradicional, en los que el daño fue extensivo. El análisis de costos sugiere que incrementos relativamente pequeños en la inversion inicial, destinados a implementar un diseño de simulación de arroyos, dan como resultado considerables beneficios sociales y económicos. Se presentan recomendaciones que podrán ayudar tanto a las agencias como los participantes genuinamente interesados en el tema, a mejorar los pasadizos fluviales mediante un incremento en la coordinación que promueva las metodologías del diseño de simulación de arroyos, aumento de los fondos y la flexibilidad de las agencias y participantes para actualizar aquellos pasadizos cuya resiliencia a las inundaciones haya fallado y expandir los talleres de capacitación dirigidos a participantes federales, estatales y locales.

To cite this article: Nathaniel Gillespie, Amy Unthank, Lauren Campbell, Paul Anderson, Robert Gubernick, Mark Weinhold, Daniel Cenderelli, Brian Austin, Daniel McKinley, Susan Wells, Janice Rowan, Curt Orvis, Mark Hudy, Alison Bowden, Amy Singler, Eileen Fretz, Jessica Levine & Richard Kirn (2014) Flood Effects on Road–Stream Crossing Infrastructure: Economic and Ecological Benefits of Stream Simulation Designs, Fisheries, 39:2, 62-76, DOI: 10.1080/03632415.2013.874527
To read the rest of this article: http://dx.doi.org/10.1080/03632415.2013.874527