Fisheries Magazine
Highlights of Fisheries Magazine – September 2014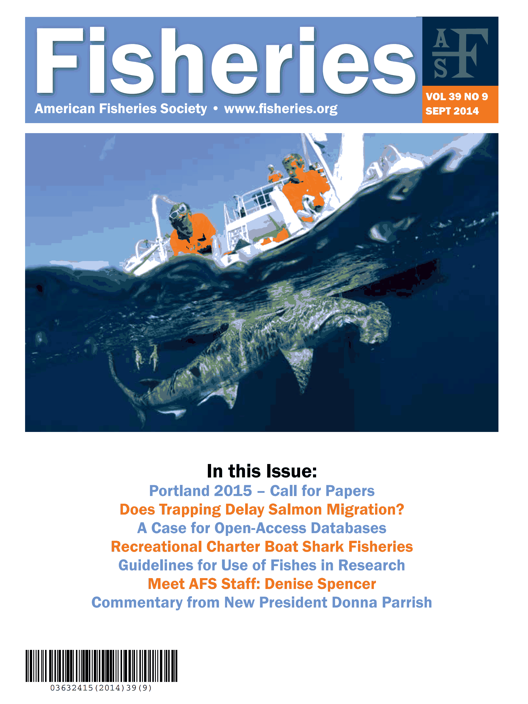 In this Issue:
SPECIAL: Units, Step Right Up: Get Your Free Website
Jordan Allison

Does Trapping Delay Salmon Migration?
Recreational Charter Boat Shark Fisheries
Guidelines for Use of Fishes in Research
Commentary from New President Donna Parrish
Portland 2015 – Call for Papers
A Case for Open-Access Databases
Meet AFS Staff: Denise Spencer
TO ACCESS FISHERIES:

COLUMNS
President's Commentary
Revisiting the AFS Lexicon
Donna Parrish

Policy
Effects of Industrial Water Intake Structures
Thomas E. Bigford
Letter from the Executive Director
Fisheries Inside the Beltway
Doug Austen
TO ACCESS FISHERIES:
RESEARCH ARTICLES
An Assessment of the Scale, Practices, and Conservation Implications of Florida's Charter Boat–Based Recreational Shark Fishery
David Samuel Shiffman and Neil Hammerschlag
Trapping Effects and Fisheries Research: A Case Study of Sockeye Salmon in the Wenatchee River, USA
Joshua G. Murauskas, Jeffery K. Fryer, Bryan Nordlund, and Joseph L. Miller
Guidelines for Use of Fishes in Research—Revised and Expanded, 2014
Uses of Fishes in Research (UFR) Committee: Jill A. Jenkins,  Henry L. Bart, Jr., James D. Bowker, Paul R. Bowser, J. Randy MacMillan, John G. Nickum, Joseph W. Rachlin, James D. Rose, Peter W. Sorensen, Barbara E. Warkentine, and Greg W. Whitledge
Open-Access Databases as Unprecedented Resources and Drivers of Cultural Change in Fisheries Science
Ryan A. McManamay and Ryan M. Utz
MAGAZINE
AFS ANNUAL MEETING – Portland 2015
145th Annual Meeting of the American Fisheries Society: First Call for Papers
INTERVIEW
Q&A: Book Editors
Future of Fisheries: Perspectives for Emerging Professionals.
William W. Taylor, Abigail J. Lynch, and Nancy J. Léonard
MEET THE STAFF
Denise Spencer
BACK PAGE
The Things We Do For Science
Milton Love
And more!
TO ACCESS FISHERIES: