Fisheries Magazine
Highlights of Fisheries Magazine – October 2014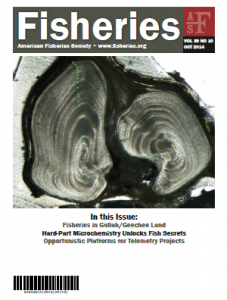 In this Issue:
COLUMNS
President's Commentary
AFS Communications for the Ages
Donna Parrish
Policy
When Is Sublethal Deadly?
Thomas E. Bigford
Letter from the Executive Director
Fish Have No Nationalities, But Harvest Does
Doug Austen
FEATURES
Opportunistic Acoustic Telemetry Platforms: Benefits of Collaboration in the Gulf of Maine Monitoring animal behavior, habitat use, and survival through telemetry projects using platforms of opportunity.
Graham S. Goulette, James P. Hawkes, John F. Kocik, James P. Manning, Paul A. Music, John P. Wallinga, and Gayle Barbin Zydlewski
Using Hard-Part Microchemistry to Advance Conservation and Management of North American Freshwater Fishes
Quantifying elemental concentrations in hard-parts like fin-rays and otoliths can help answer management and research questions about fish movement, recruitment, and population dynamics that may not be accessible through traditional fisheries techniques like mark-recapture, telemetry and genetics.
Brenda M. Pracheil, J. Derek Hogan, John Lyons, and Peter B. McIntyre
SYNOPSIS
A Roadmap for Science, Education, and Outreach for Natural Resources
Wendy Fink, Daniel Edge, and Eric Hallerman
FISHERIES PERSPECTIVES
The Gullah/Geechee Fishing Association
Lonnie Gonsalves, Marybeth Brey, and Cecilia Lewis
UNIT NEWS
AFS Annual Meeting 2015. Photo credit: Travel Portland.
FRESHWATER, FISH, AND THE FUTURE
Global Conference on Inland Fisheries: Bringing a New International Focus
AFS ANNUAL MEETING 2015
145th Annual Meeting of the American Fisheries Society: Second Call for Papers
IN  MEMORIAM
Billy Frank, Jr.
JOURNAL HIGHLIGHTS
North American Journal of Fisheries Management, Volume 34, Number 5, October 2014
BACK PAGE
A Deckhand "Fester" Story
Milton Love
CALENDAR
Fisheries Events
TO ACCESS FISHERIES: