Aquatic Blue Carbon
by Thomas E. Bigford
Recent literature shows aquatic environments can sequester greater amounts of carbon than equivalent acres of forests, thereby elevating the importance of blue versus green habitats in the global battle to reduce climate change. Those benefits are especially high for shore-side environs like wetlands and mudflats.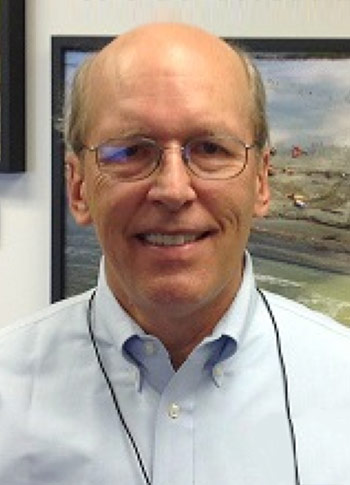 Carbon is a critical element. Life requires it, but too much of a good thing can be harmful. Climate change literature tells us that when present in elevated concentrations, and when mixed with the wrong particles, carbon-based molecules can be one of the primary causes of global warming. Our industrial society has already pumped sufficient carbon into our atmosphere to warm the globe for decades. To control warming society absolutely must move away from its fossil fuel diet while also sequestering the carbon-based molecules that drive this unwanted atmospheric transformation. This challenge has special meeting for us since warming almost certainly will affect fish populations on a massive scale. While fish lovers may be counting on chemists, politicians, and others to chart a path toward sanity, we in the fish community can play a major role.
You've probably heard of inventive ideas to control carbon dioxide, methane, or other such gases — deep-well injection, intergalactic orbit, and the like. And each futuristic remedy comes with an unsigned promissory note from our children stating their commitment to invent the technical and financial wherewithal to prevent leaks for eternity. Or, just because it makes preeminent sense, we could bypass wishful thinking and simply take advantage of the carbon storage tanks that have served us since our knuckles scraped the Rift Valley muds. The newly-understood option will not solve all of our woes but its proven success is undeniable. It must be part of our long-term societal plan. Beginning now, before the option is removed from the equation.
While life is rarely simple, the scientific logic behind this ecological option is inescapable. The plain fact is that aquatic environments from lake shorefronts to salt marshes offer far greater sequestration potential than we could ever expect from forests or the Rube Goldbergian options on the table (McLeod et al. 2011). The very places that support fish also pose huge benefits to society. And those nearshore environs represent a mere fraction of the total acreage of the upland ecotones often mentioned as the most logical "sinks" for excess carbon. Simply put, the aquatic edge between shore and shallows offers society a great benefit. To redeem its value we need only to let nature run its course.
Rather than elaborate scrubbers atop power plant stacks, the latest and best carbon sink is commonly camouflaged as wetlands, mudflats, peat bogs, mangroves, etc.  Even waters such as rivers, lakes, and reservoirs also serve a vital role. This unanticipated ecological service was discovered in the past decade, is only now being recognized in natural resource plans, and is not yet reflected in regulatory decisions. Cole et al. (2007) describe how freshwater aquatic systems help to store, transform, and transport terrestrial carbon, and thereby affect global carbon budgets.
Let me clarify the environs at the heart of this option. Carbon sequestered in shore-side sediments and plants represents a contribution to ecological sinks. The same carbon dissolved in oceans can acidify our seas, perhaps to the demise of critters who depend on calcium and other elements that will fare poorly if pH levels decrease. This is undoubtedly more complex than the preceding sentences, but coastal habitats can serve a far greater role than envisioned.
From headwaters to the Great Lakes and our oceans, the concept of "coastal carbon" is adding value to our work. A quick skim through some recent literature reveals that the very habitats that nurture most of our fish (and birds and economic value and non-consumptive pleasures) are extraordinarily adept at storing carbon. Pendleton et al. (2013) describe the seemingly unique role of coastal ecosystems in the global climate equation. Coastal ecosystems store carbon at unprecedented rates, adding justification to habitat protection and restoration efforts formerly based on cost benefit ratios and associated criteria. Now, without the addition of a single legislative mandate or additional staff, society has the opportunity to address a crying need with an additional variable in a simple equation. If we conserve shallow-water habitats we will retain the ecological services that benefit fish and fish lovers plus the new-found and enormous capacity of those same environments to sequester carbon. If those special places are lost to development, natural or human-driven catastrophe or even the chronic ravages of climate change we will lose the capacity of those environments to store carbon. Worse still, society will also suffer from the release of the very carbon those places have sequestered from the global atmosphere.
These new realizations promise to shift debate in the many management, science, and regulatory arenas that touch aquatic ecosystems. Pendleton et al. (2013) offer non-threatening steps toward change. Sutton-Grier et al. (2014) provide additional detail on incorporating these types of ecosystem services into natural resource management. Those authors have connected the physics to ecology. AFS members and other fish folk need to connect the option to reality.
The timing is opportune as many nations have expressed growing interest in a fuller consideration of ecosystem services in their regulatory decisions. Now, with climate services added to the debate, it would seem the odds have tilted toward conserving places that remain at risk. Whether you approach this conundrum from a watershed, ecosystem, parochial, or political perspective, the concept of blue carbon should deepen your commitment to conserve aquatic places.
You have probably heard about the perils of declining habitats for fish, birds, large mammals, and the like. There is a strong coastal signature in those trends, not the least of which is the continued loss of coastal wetlands (Dahl and Stedman, 2013) while the inland wetland footprint expands. Second homes, unusual storms, and a burgeoning human population are among the drivers affecting the national health of aquatic habitats. Now the reasons to engage extend from fish to society, from an avocation to the future of humanity. I don't mean to get preachy, although I can't help but be passionate, but it is not often that an issue connected to fish and their habitats becomes a larger factor in the grander plan.
This opportunity is reflected in the National Ocean Policy's implementation plan (National Ocean Council, 2013) – incorporate carbon sequestration into coastal habitat conservation. Action to achieve that objective must involve all sectors – industry and environmental, public and private, individual and corporate. Aquatic blue carbon cannot reverse the damage we are doing to our atmosphere but it most certainly can be part of the solution. Certainly, that is, if we wean ourselves off fossil fuels, conserve the places that provide these ecosystem services, and remain vigilant about adjacent places such as open waters that may acidify rather than sequester. Professional fish people will need to work with the politicians, physicists, and others to succeed.
Literature cited
Cole, J.J., Y.T. Prairie, N.F. Caraco, W.H. McDowell, L.J. Tranvik, R.G. Striegel, C.M. Duarte, P. Kortelainen, J.A. Downing, J.J. Middelburg, and J. Melack. 2007. Plumping the global carbon cycle: integrating inland waters into the terrestrial carbon budget. Ecosystems 10: 171-184.
Dahl, T.E. and S.M. Stedman. 2013. Status and trends of wetlands in the coastal watersheds of the coterminous United States 2004-2009.
National Ocean Council. 2013.National Ocean Policy Implementation Plan – press release April 16, 2013. www.whitehouse.gov/administration/eop/oceans/implementationplan. (accessed February 10, 2014).
Pendleton, L.H., A.E. Sutton-Grier, D.R. Gordon, B.C. Murray, B.E. Victor, R.B. Griffis, J.A.V. Lechuga, and C. Giri. 2013. Considering "coastal carbon" in existing U.S. federal statutes and policies. Coastal Management 41:439-456.
Sutton-Grier, A.E., A.K. Moore, P.C. Wiley, and P.E.T. Edwards. 2014. Incorporating ecosystem services into the implementation of existing U.S. natural resource management regulations: operationalizing carbon sequestration and storage. Marine Policy 43:246-253.  http://dx.doi.org/10.1016/j.marpol.2013.06.003. (accessed February 10, 2014).