AFS 2015: Invitation to Submit Proposals for Symposia
 First Call for the 145th Annual Meeting of the American Fisheries Society,
August 16-20, 2015 in Portland, Oregon
 Invitation to Submit Proposals for Symposia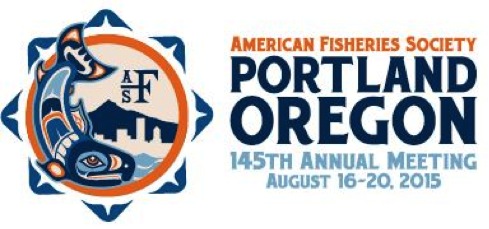 It is time to start planning your trip to Portland for the 145th annual meeting of the American Fisheries Society! To encourage a diversity of symposia, contributed papers, and posters at this meeting, the Program Committee decided a "themeless" meeting was more appropriate for Portland, one of the great venues in North America that is intrinsically tied to marine and freshwater fish and fisheries. This meeting promises to feature the latest and greatest information and discussions regarding the huge challenges facing fisheries professionals today.
The AFS 2015 Annual Meeting, co-hosted by the Society, the Western Division, and the Oregon Chapter, is scheduled from August 16-20, 2015, in beautiful downtown Portland at the Portland Convention Center. Portland is known for its thriving downtown, outdoor activities, and broad array of restaurants and food carts that contribute unsurpassed opportunities to meet and engage with fisheries professionals from around the world. We look forward to seeing you in Portland, the City of Roses!
General Information
Aquatic resource professionals are now invited to submit symposia proposals. Later there will be a call to submit abstracts for the contributed papers (oral presentations) and posters sessions. These submissions should cover a wide range of pertinent topics and disciplines. The Pacific Northwest is the epicenter of many fisheries issues and activities, so we anticipate an increase in international participation and a balance of marine and freshwater-focused symposia. We encourage participation by all those involved in the broad range of disciplines working with fish and fisheries, including research, management, governance, propagation, enforcement, pathology, education, sociology, or economics, just to name a few. We encourage participants to propose multidisciplinary and interdisciplinary topics as well as those that address specific topics of interest to the range of attendees from regional to international. We particularly welcome student participation as they are the future of the profession and the Society.
The technical program for the 2015 AFS Annual Meeting consists of three categories:
Symposia
Contributed Papers
Posters
Late submissions will not be accepted, so please consult the below section on Important Dates.
AFS does not waive registration fees for presenters at Symposia or Contributed Papers sessions, or workshops. All presenters and meeting attendees must pay registration fees.
Registration forms will be coming in May 2015; register early for cost savings.
Important Dates
Symposia (more info coming soon)

Proposals for Symposia must be submitted by 16 January 2015.
The list of accepted Symposia proposals will be posted on 13 February 2015.
If accepted, organizers must submit a complete list of confirmed presentations and titles by 6 April 2015.
Abstracts for Symposium oral presentations must be submitted by 13 March 2015 using the process described above.
 Contributed Papers and Posters  (more info coming soon)

Those that wish to present in Contributed Papers or Poster sessions at the 2015 AFS meeting are required to submit abstracts by 13 March 2015, following the process described above.
Confirmation of acceptance or refusal of abstracts will be communicated by 17 April 2015.

Program Committee Contacts
• Program Co-Chairs:

Jim Bowker
USFWS Aquatic Animal Drug Approval Partnership Program;
Tel. 406-994-9910
Email: afs2015program@gmail.com
Nancy Leonard
Northwest Power and Conservation Council
Tel. 503-222-5161
Email: afs2015program@gmail.com
• Contributed Papers Subcommittee Chair:
Peter Galbreath
Columbia River Inter-tribal Fish Commission
Tel. 503-731-1250
Email: galp@critfc.org 
• Symposia Subcommittee Chair:
Craig Busack
NOAA National Marine Fisheries Service
Tel. 503-230-5412
Email: craig.busack@noaa.gov
 
• Posters Subcommittee Chair:
Tom Friesen
Oregon Department of Fish and Wildlife, Corvallis Research Lab
Tel. 541-757-4263
Email: Tom.friesen@oregonstate.edu