TOC
• Good to Know
• Meeting News
• Publications
• From the Job Board
• Call for Awards
• Policy / Advocacy / Law
• Spotlight on Members
• Young Professional / Student News
• In Short
• Studies
• Calendar / Important AFS Business
Good To Know

Important News
Highlights of Fisheries Magazine - February 2016
In this Issue:
… and more!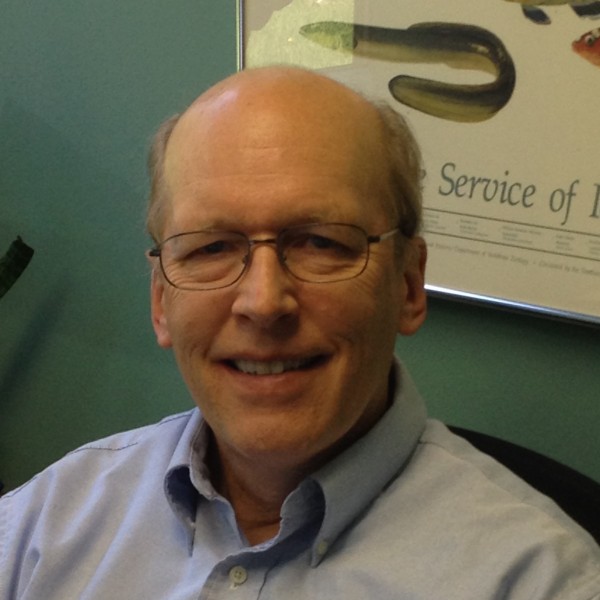 From the desk of the AFS Policy Director
(about Tom Bigford)
In our continuing effort to develop recommendations on aquatic resources for the next U.S. President, AFS hosted a gathering of 15 fish specialists representing state and federal interests, environmental groups, and industry associations on February 9th. The discussions added nicely to a fact-finding effort that will continue through March. Look for an interactive page on the AFS website to submit your ideas or comments.
Following up on earlier actions, and focused on the bill Congress passed last October that set the spending framework for fiscal years 2016 and 2017, AFS joined the Theodore Roosevelt Conservation Partnership and its network on February 9th to sign a letter encouraging House and Senate leaders to maintain their commitment toward solid reinvestments in key conservation programs across a wide spectrum of agencies. The letter specifically urges leaders not to revisit those budget decisions from last fall or to reprioritize conservation programs or funding levels. AFS will continue to track this activity.

USA: USFWS Announces Over $20 Million in Grants to Conserve Coastal Wetlands
The USFWS announced over $20 million will be provided to 28 projects in 12 coastal states to protect, restore or enhance more than 10,000 acres of coastal wetlands and adjacent upland habitats under the National Coastal Wetlands Conservation Grant Program. State and local governments, private landowners, conservation groups, and other partners will contribute over $20 million in additional funds to these projects, which acquire, restore, or enhance coastal wetlands and adjacent uplands to provide long-term conservation benefits to fish and wildlife and their habitats.
USA: Federal agencies announce proposal creating U.S. seafood traceability program
The National Ocean Council Committee to Combat Illegal, Unreported and Unregulated Fishing and Seafood Fraud announced its proposal for creating a U.S. seafood traceability program--the next step the U.S. government is taking to ensure that global seafood resources are sustainably managed and not fraudulently marketed. The proposal, a major step forward in combating illegal, unreported, and unregulated (IUU) fishing, aims to trace the origins of imported seafood by establishing reporting and filing procedures for imported fish and fish products entering U.S. commerce.
AFRICA: One of Africa's biggest dams is falling apart
Kariba's collapse, like Mosul's, would constitute an epochal event in the history of energy development—the dam industry's Chernobyl. The ensuing torrent would be four times bigger than the Zambezi's biggest recorded flood, in 1958, and would release enough water to knock over another major dam three hundred miles downstream, in Mozambique. At least 3 million people live in the flood's path; most would die or lose their crops or possessions. About 40% of the electricity-generating capacity of 12 southern African nations would be eliminated.
Prominent AFS Members Review the Global Importance of Inland Fisheries
Check out the video abstract of a new article by a team of several AFS members led by Abby Lynch and Steve Cooke: "The social, economic, and environmental importance of inland fish and fisheries," in Environmental Reviews.
"What is of great concern is that more than half of the habitat where inland fish reside is threatened, so populations may be lost before they are properly documented," said Cooke.
Inland capture fisheries are crucial to global food security, according to this first global review. They are often overshadowed by the attention devoted to marine capture fisheries The paper shows that although aquaculture and inland capture fisheries contribute a significant component of the world's finfish production, their harvest is greatly under-reported. The authors suggest that inland fish are undervalued and rarely considered in policy decisions related to water management.
Julie Lawson - Expanding the Range of the Japanese Seahorse
New records of the Japanese seahorse Hippocampus mohnikei from Cambodia, Malaysia, Thailand and Vietnam, along with recently published studies from India and Singapore, have greatly expanded the known range of H. mohnikei within Southeast Asia. These new records reveal novel habitat preferences and threats to H. mohnikei in the region. Although the global conservation status of H. mohnikei is classified as Data Deficient ...Read more.
Abigail Lynch - New Fishionary Post on Scutes
A scute is an external bony plate on the surface of a fish. Scutes serve a protective function, acting as a body armor for fish against environmental abrasions and even predation. In some fishes, such as Alewife (Alosa pseudoharengus), scutes are ...Read more.

Storytelling Series: Lesley de Souza, Conservation Biologist and Explorer
Travel deep into one of the most remote forests on Earth as conservation biologist and explorer Lesley de Souza searches for the world's largest scaled fish, the magnificent but threatened arapaima. Join Jaclyn Johnston of Ship To Shore Productions as she interviews Lesley about her conservation work with arapaima and shares breathtaking photography from their epic adventures in the rugged interior of Guyana, South America....Read more.
Young Professional / Student News
Applications are due March 6 for the 2016 International Fisheries Section Fellow Award, providing travel for a student or young professional to present a poster or oral presentation at the Fisheries Society of the British Isles Annual Symposium, July 18-22, Bangor University, United Kingdom.
Brooke Penaluna, Ph.D., a member of the American Fisheries Society since 2005, recently received a U.S. Forest Service 2015 Research & Development Deputy Chief's Award. Penaluna, based at the Corvallis lab, received the "Early Career Scientist" award in recognition of her outstanding science leadership, critical advances in fish biology and watershed science, and international collaboration. She will formally receive her award at a ceremony later this month in Washington, D.C.
Jeremiah Shrovnal Receives the James E. Casperson Memorial Scholarship
Accomplishments: Actively engaged, and current president of University of Wisconsin-Green Bay's AFS Student Subunit, which has provided him many opportunities such as assisting in a Manitowoc based pre-restoration, working at the Strawberry Weir fishery, catching and documenting returning Chinook Salmon, sampling larval Lake Whitefish on the Menominee River, monitoring Northern Pike populations in the Green Bay wetlands, and ....Read more.

Bristlemouth: The Most Abundant Vertebrate in the World
Which helps explain why scientists have only recently come to realize that the bristlemouth — a fish of the middle depths that glows in the dark and can open its mouth extraordinarily wide, baring needlelike fangs — is the most numerous vertebrate on the earth. "They're everywhere," Bruce H. Robison, a senior marine biologist at the Monterey Bay Aquarium Research Institute in California, said of the bony little fish. "Everybody agrees. It's the most abundant on the planet." ...Read more.
Social Media Monitors the Largest Fish in the Sea
Thousands of vacationers swim with, and photograph, whale sharks every year. These images are increasingly finding their way online, and websites such as Facebook, Flickr, and YouTube have consequently become vast, unappreciated databanks for monitoring the largest fish in the sea. In most cases, the social media sites offer open access for researchers to download these images. When subsequently contacted and asked for further details of their encounter....Read more.
Warming Ocean May Bring Major Changes for U.S. Northeast Fishery Species
NOAA scientists have released the first multispecies assessment of just how vulnerable U.S. marine fish and invertebrate species are to the effects of climate change. The study examined 82 species that occur off the Northeastern U.S., where ocean warming is occurring rapidly. Researchers found that most species evaluated will be affected, and that some are likely to be more resilient to changing ocean conditions than others. The study appears in PLOS ONE, ....Read more.
Study Finds 85% of Male Bass Collected in Northeastern U.S. Had Eggs
Scientists from the U.S. Fish and Wildlife Service and the U.S. Geological Survey studied fish in 19 national wildlife refuges in the U.S. Northeast, including Missisquoi. Their conclusion: An astonishing 60 to 100 percent of all the male Smallmouth Bass they examined had female egg cells growing in their testes. Scientists call this condition intersex, and while its exact causes are unknown, it's been linked to manmade, environmental chemicals that mimic or block sex hormones. ...Read more.
Tiny bits of plastic in ocean are hurting oyster reproduction
Eating, for an oyster, is pretty simple: Take water in, keep the tasty plankton, and spit water out. Increasingly, however, these mollusks are exposed to tiny pieces of plastic the same size as oysters' preferred plankton meals. More plastic from various products and industrial processes ends up in the oceans each year, and over time, this waste breaks down into smaller and smaller pieces. In a study published online in the Proceedings of the National Academy of Sciences, researchers show that when Pacific oysters are exposed to so-called microplastics in the lab, they ingest ....Read more.
Newsletter Editors
Sarah Harrison
Beth Beard