TOC
• Good to Know
• Meeting News
• Publications
• From the Job Board
• Call for Awards
• Policy / Advocacy / Law
• Spotlight on Members
• Young Professional / Student News
• In Short
• Studies
• Calendar / Important AFS Business
Good To Know

Important News
Submit Your Symposium Proposal for Kansas City! This year's theme is: Fisheries Conservation and Management: Making Connections and Building Partnerships. Deadline for New Submissions: January 31, 2016.
It is with mixed emotions that this month we bid farewell to Sarah Gilbert Fox, our long-standing managing editor at Fisheries. Fox is leaving us to return to the world of creative writing (rumor has it that her fifth Great American Novel is forthcoming; see her work at: sgfoxportfolio.wordpress.com), and a broad range of personal endeavors that were on hold for far too long. We are sad to see her go, but filled with joy that she is going back to her one great passion. ....Read more.
March 29-30, 2016
Annual Spring Meeting of the NCD Rivers and Streams Technical Committee

This year we welcome presentations on all topics related to rivers and streams in the North Central Division. Click here for info!
Working Toward Resilient Landscapes and Communities

Defining Forage Species to Prevent a Management Dilemma
Forage species are often defined in scientific and popular literature using terms such as "small," "schooling," "short- lived," pelagic fish found at intermediate trophic levels of marine food chains. However, not all stakeholders use the same combination of terms, and their definitions include an array of fish and invertebrates that range in size, life span, and habitat …Read more.
Sampling Design for Early Detection of Aquatic Invasive Species in Great Lakes Ports
We evaluated a pilot aquatic invasive species (AIS) early detection monitoring program in Lake Superior that was designed to detect newly introduced fishes. We established survey protocols for three major ports (Duluth-Superior, Sault Ste. Marie, Thunder Bay) and designed an adaptive cycle for routine evaluation of survey performance. Among the three ports, we found both similarities (species richness) and differences ….Read more.

AFS Position Paper and Policy on Mining and Fossil Fuel Extraction
Mining (hard-rock, aggregate, deep, and surface) and fossil fuel (coal, oil, gas) extraction have the potential to significantly alter aquatic ecosystem structure and function. Adverse impacts on water quality, hydromorphology (physical habitat structure), aquatic biota, and fisheries include elimination and contamination of receiving waters; significantly altered algal, macroinvertebrate, and fish assemblages ....Read more.

Correlation and Causation in Fisheries and Watershed Management
Efforts to understand how to manage aquatic ecosystems often rely on correlations between human actions and impacts in the ecosystem. We are often warned that correlation does not imply causation and that the gold standard for identifying cause and effect relationships is manipulative experiments. History shows us that correlations are often not causal and that managers should not design policies based on the assumption of causality. However, in the absence of manipulation ….Read more.
American Institute of Fisheries Research Biologists Outstanding Individual Achievement Award
This award is given to an individual who has made significant contributions to the advancement of fisheries science in North America as indicated by significant publications, exceptional service to the profession, outstanding teaching or training of students, and important discoveries or inventions. If you know of someone who has some or all of these accomplishments, you can nominate him or her by submitting one or two paragraphs that identify their contributions and the reason for your nomination to Richard.Beamish@dfo-mpo.gc.ca. One candidate will be selected each year by a committee of former award recipients and all nominees remain for consideration for three years.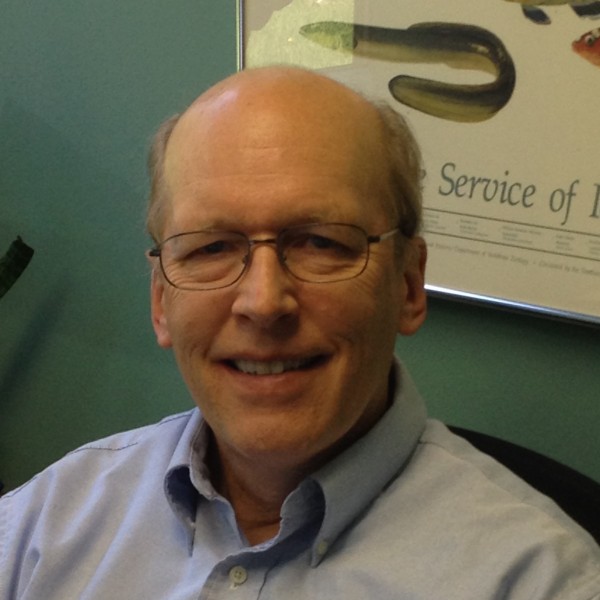 From the desk of the AFS Policy Director
(about Tom Bigford)
AFS conducted a conference call with State Department staff to discuss the upcoming Fishackathon, which is a 48-hour coding session to solve current fisheries problems. AFS is working to help connect the State Department with fisheries scientists/professionals, as well as provide fisheries problems that could be solved through the Fishackathon process.
In accordance with our cooperative agreement, our Policy Team conducted a conference call with the U.S. Forest Service to begin the process of hosting a congressional briefing late this spring, or early summer. The call went over various topics that may be covered at the briefing, timing, and potential expert speakers. AFS and the Forest Service will be continuing to communicate on this project over the next few months.
AFS also has a seat on the National Fish Habitat Partnership Board, and therefore attended the January Board conference call for the partnership. The call covered the current budget, the new project funding allocation method, as well as other internal matters of the partnership. The call also covered the recent progress of the National Fish Habitat Conservation Act ("NFHCA"), which was recently included as an amendment within S.659: the Bipartisan Sportsmen's Act of 2015. The National Fish Habitat Conservation Act is a bill that will codify and strengthen the partnership, and the inclusion of the NFHCA was championed by Senator Lisa Murkowski of Alaska. AFS recently sent Senator Murkowski a letter, thanking her for her efforts and support of fish and fish habitat.

• USA: Obama admin agrees to review mining impacts on fish species
A federal judge signed off this week on a settlement agreement between the Obama administration and environmental groups over coal mining's effect on a pair of at-risk fish species in northeastern Tennessee. The U.S. Fish and Wildlife Service and the federal Office of Surface Mining Reclamation and Enforcement agreed to analyze under .…Read more.
• USA: NOAA approves 10-fold increase in right whale habitat
NMFS announced today that it is dramatically increasing the critical habitat for endangered North Atlantic right whales, with protections for feeding grounds and calving areas along the East Coast. The final rule expands the whales' habitat tenfold, to almost 30,000 square nautical miles. That includes Northeast feeding areas in ….Read more.
• USA: Judge forces feds to review protections for river herring, shad
A federal judge has ordered NMFS to consider protections for river herring and shad, setting an October deadline for the agency to produce an environmental analysis. The decision is the latest to come out of a year-long debate over whether NMFS adequately manages the river herring and ….Read more.
• USA: California: Brown highlights water challenges, climate in state speech
Jerry Brown (D) used his annual State of the State speech today to address California's ongoing water woes, as well as its progress on climate change. While preaching an overall message of economic restraint, Brown highlighted the $7.5 billion bond approved by voters in 2014 for water infrastructure as "one ….Read more.
AFS Member Tom Lang: Named to Newspaper's "20 Under 40" List
The great outdoors has always been part of Tom Lang's life, including time spent with his grandparents in Kentucky, a sanctuary of sorts — just him, the sounds of nature, and a fishing pole. Like many youths, he grew up wanting to be a doctor, lawyer, or, like his father, a car salesman. But nature had captured his heart and never let go. The 34-year-old said he had three opportunities to come to Texas to work in the Texas Parks & Wildlife Department, but it wasn't until 2012 when an offer to become the district fisheries management supervisor in Wichita Falls ....Read more.

AFS Member John Carlos Garza profiled in New York Times: Researchers play matchmaker to save fish population
Biologists are using new genetic techniques to reduce inbreeding among salmon, but some scientists question if natural methods would have worked just as well. The new technique involves a team of specialists who use egg trays and a rubber mallet to kill fertile fish and then mix their eggs with male milt, or sperm, and raise the resulting offspring...Read more.
Young Professional / Student News
An 'unfathomable amount' of rising heat in the oceans
The global oceans, like a giant sponge, have sopped up 90% of the excess heat trapped in the planet since the Industrial Revolution. Almost half of that heat uptake, equaling "an unfathomable amount of heat"--330 zeta joules, with 21 zeros--has occurred since 1997, said Peter Gleckler, a climate scientist at the Lawrence Livermore National Laboratory. The finding was published in Nature Climate Change. The heat is mostly in the upper reaches of the ocean, and 35 percent has trickled down to depths greater than 700 meters, the study finds. "What is happening in the deeper ocean is more of a mystery; the heat is trapped there for a very long time, and it could have important implications for circulation and marine ecology that we don't understand," Gleckler said.…Read more.

Countries vastly underreport catch
Experts have significantly underestimated the amount of fish caught over the last six decades, according to a new study that suggests the world's fisheries should be more closely monitored.The study--published today in Nature Communications--details the results of a "catch reconstruction," in which researchers used a variety of data to estimate the total weight of fish caught each year from the world's oceans. It finds that countries vastly underreport their catch.In 1996, for example, the United Nations estimates that fishing catch peaked at 86 million metric tons. But today's study asserts that the fish caught that year was closer to 130 million metric tons.…Read more.
Newsletter Editors
Sarah Harrison
Beth Beard