TOC
• AFS Announcements
• Meeting News
• Publications
• From the Job Board
• Policy / Advocacy / Law
• Spotlight on Members
• Young Professional / Student News
• News Briefs
• Studies
• Calendar
Vote Notification: Voting Now Open for Proposed Constitution and Rules Changes
It is our members' turn to vote on two sets of changes to the AFS Constitution and Rules. The two items have been approved by the AFS Governing Board and circulated to the membership for a 30-day review and comment period. No comments of any substance were received and now it is time for the vote. For each of the two items, you will use the Survey Monkey link sent to you by email to vote Approve/Not Approve/Abstention/Reopen Discussion.
The vote will be open for 30 days and close on April 3, 2016.
Q&A with the Candidates
We asked the TOUGH questions. Click here for their responses: Scott Bonar and Gary Whelan.
Look for Instructions on how to vote in your inbox in April!
Welcome Clemson and Texas A&M
The AFS Management Committee approved two new Student Subunits at its monthly conference call in February. These subunits at Clemson and Texas A&M are connected to the South Carolina and Texas Chapters, respectively. Other business conducted by the Management Committee can be found in the minutes of the call.
PRESIDENT'S COMMENTARY: One Fish, Two Fish
Perhaps you are thinking from the title of this commentary that it deals with methods of estimating relative abundance or the size of a particular fish population. However, it is far from that. The title is borrowed from a classic children's book by Dr. Seuss: One Fish Two Fish Red Fish Blue Fish (Seuss 1960). This …Read more.
A Resilience Approach Can Improve Anadromous Fish Restoration
Most anadromous fish populations remain at low levels or are in decline despite substantial investments in restoration. We explore whether a resilience perspective (i.e., a different paradigm for understanding populations, communities, and ecosystems) is a viable alternative framework for anadromous fish restoration. Many life history traits have allowed anadromous fish to …Read more.
POLICY COLUMN: Climate Change and Fish
The 2015 United Nations Climate Change Conference recently concluded in Paris, and developed countries are now charged with implementing an environmental agreement to limit greenhouse gas emissions. That's a perfect setting for us to ponder how well positioned "we" might be for change that might be reflected in U.S. fish programs. With a clearer …Read more.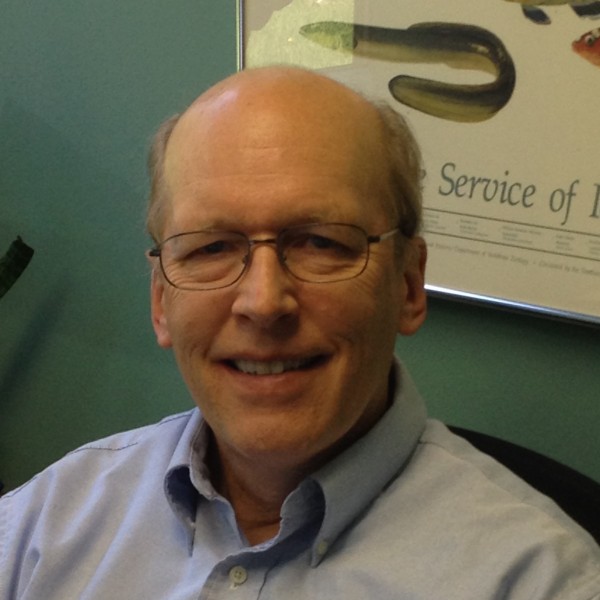 From the desk of the AFS Policy Director
(about Tom Bigford)
The policy team has been continuing to work on the Future of the Nation's Aquatic Resources effort by meeting with organization and agency representatives to inform them about the project and solicit comments on specific recommendations for the new presidential administration. Most recently, we were at the North American Wildlife and Natural Resources Conference in Pittsburgh, Pennsylvania, making presentations to several committees, as well as holding a discussion meeting on the topic.
AFS continued its work on building partnerships by attending the National Fish Habitat Partnership Governing Board meeting at The Nature Conservancy. AFS has a seat on the board; this seat enables the policy team to connect with state and federal agency partners to inform them about the work that AFS is conducting, as well as support fish habitat initiatives. The policy team was also present at the National Press Club event announcing the recent report on Recommendations from the Blue Ribbon Panel on Sustaining America's Diverse Fish and Wildlife Resources. The event was brought about by the Association of Fish and Wildlife Agencies and the National Wildlife Federation, along with several energy, business, government, and conservation leaders to present recommendations on how to sustainably fund conservation.
Lastly, AFS headquarters continues to reach out to our membership by attending Division and Chapter meetings. Recently, members of our policy staff attended the Southern Division, Western Division, and Pennsylvania Chapter's annual meetings.
International Fisheries Science Prize to Be Awarded to AFS Member Ray Hilborn
The International Fisheries Science Prize Committee of the World Council of Fisheries Societies has awarded the 2016 International Fisheries Science Prize to Professor Ray Hilborn in the School of Aquatic and Fishery Sciences at the University of Washington. Professor Hilborn has had an extremely impressive career of highly diversified research and publication in support of... Read More.
Young Professional / Student News
STUDENTS: Are you interested in MAKING MONEY while attending this year's AFS Annual Meeting in Kansas City? The meeting organizers are looking for undergraduate and graduate students to work during the Annual Meeting – jobs such as AV, registration, and more! The rate of pay is $10.00/hour and is flexible based on your schedule. Please contact Greg Pitchford at Greg.Pitchford@mdc.mo.gov for questions and to sign up.
Spend the Summer with AFS! AFS Policy Internship
AFS is offering up to two summer internships for current AFS members to work in an office setting on a range of fish policy priorities. Our primary intent is to provide a paid, summer opportunity for a one or two undergraduate students.
Applications must be submitted by April 1, 2016, as attachments to email, sent to Mr. Taylor Pool at tpool@fisheries.org . Each application must be accompanied by a cover letter explaining interest in the internship and including the AFS member number.

Did you know that Pink Stingrays catch a ride with larger stingrays?
The Pink Whipray, Himantura fai, is a large ray that occurs in coastal soft-sediment habitats in the Indian Ocean, northern Australia, and parts of Southeast Asia to Micronesia in the western Pacific. Behaviourally, the species is unique because multiple individuals often piggyback on members of the same species and on other, larger stingrays. The reasons for this behaviour are unknown... One possibility is that piggybacking is a predator defence strategy that allows the smaller rays to appear larger than they actually are and ....Read more.

Mysterious "Tully monster" fossil of Illinois turns out to be lamprey relative
In the summer of 1955, when Francis Tully set off on a fossil-collecting jaunt some 50 miles south of Chicago, he had no idea that his name was about to go down in paleontological history. A pipe-fitter by trade, Tully was just an amateur collector, but a skilled one. He knew that the coal miners of Mazon Creek had discarded vast piles of shale that contained fossils galore. And as he sifted through the fragments, he found two rocks that had cracked open and that held something incredible between them...Read more.
Fish populations revealed through seawater analysis
A research group led by Yamamoto Satoshi, a research fellow at the Kobe University Graduate School of Human Development and Environment, has shown that measuring quantities of fish DNA in seawater can reveal how many fish inhabit that environment. This discovery could enable quicker and more effective surveys of fish distribution, and has potential applications in long-term monitoring. The findings were published …Read more.
AFS March 21-24, 2016 - 41st Annual Meeting of the Western Division - Reno, Nevada
AFS March 28-31, 2016 - Washington-British Columbia Chapter Annual Meeting -Campbell's Resort, Lake Chelan, Washington
AFS March 29-30, 2016 - NCD Rivers and Streams Technical Committee Meeting - Milan, Illinois
May 21, 2016 - 2nd World Fish Migration Day

May 23-27, 2016 - 7th World Fisheries Congress - Busan, South Korea
AFS May 23-27, 2016 - Planning & Executing Successful Rotenone & Antimycin Projects - USU, Logan, Utah
AFS June 12-16, 2016 - International Congress on the Biology of Fish - San Marcos, Texas
AFS June 19-23, 2016 - 40th Annual Larval Fish Conference - Solomons, Maryland
June 20-22, 2016 - Fish Passage Conference - University of Massachusetts, Amherst
July 6-10, 2016 - Joint Meeting Ichthyologists and Herpetologists - New Orleans, Louisiana
AFS August 21-25, 2016 - 146th AFS Annual Meeting - Kansas City, Missouri
August 24-25, 2016 - 3rd Annual International Conference on Fisheries and Aquaculture - Sri Lanka
October 2-6, 2016 -1st International Trout Congress - Bozeman, Montana
October 23-27, 2016 - Aquatic Resources Education Association Biennial Conference - Shepherdstown, West Virginia
November 10-12, 2016 - 2nd International Congress on Applied Ichthyology and Aquatic Environment - Mesolonghi, Greece
December 6-7, 2016 - Flatfish Biology Conference - Westbrook, Connecticut
December 10-15, 2016 - Restore America's Estuaries and The Coastal Society: 2016 Summit: Our Coasts, Our Future, Our Choice - New Orleans, Louisiana

Newsletter Editors
Sarah Harrison
Beth Beard