TOC
• Good to Know
• Meeting News
• Publications
• From the Job Board
• Call for Awards
• Policy / Advocacy / Law
• Spotlight on Members
• Young Professional / Student News
• In Short
• Studies
• Calendar / Important AFS Business
Good To Know

Important News
Vote Notification: Voting Now Open for Proposed Constitution and Rules Changes
It is our members' turn to vote on two sets of changes to the AFS Constitution and Rules. The two items have been approved by the AFS Governing Board and circulated to the membership for a 30-day review and comment period. No comments of any substance were received and now it is time for the vote. For each of the two items, you will use the Survey Monkey link sent to you by email to vote Approve/Not Approve/Abstention/Reopen Discussion.
The vote will be open for 30 days and close on April 3, 2016.
Q&A with the Candidates
We asked the TOUGH questions. Click here for their responses: Scott Bonar and Gary Whelan.
Look for Instructions on how to vote in your inbox in April!
It's going to be off the hook!
Fisheries experts sought for the U.S. State Department's 3rd annual Fishackathon, Earth Day weekend, April 22-24, 2016, at several locations including Atlanta and Dallas. ‪The participants will create applications and tools for a sustainable fishery issue that is internationally focused.
Highlights of Fisheries Magazine - March 2016
In this Issue:
Studies on the fish populations, fisheries, and limnology of Oneida Lake, New York, started in the late 1950s at the Cornell University Biological Field Station. Early research concentrated on Walleye, Yellow Perch, and their interactions but was soon expanded to include interactions with the lake ecosystem, an early example of the ecosystem approach. Research on Oneida Lake has continued for …Read more.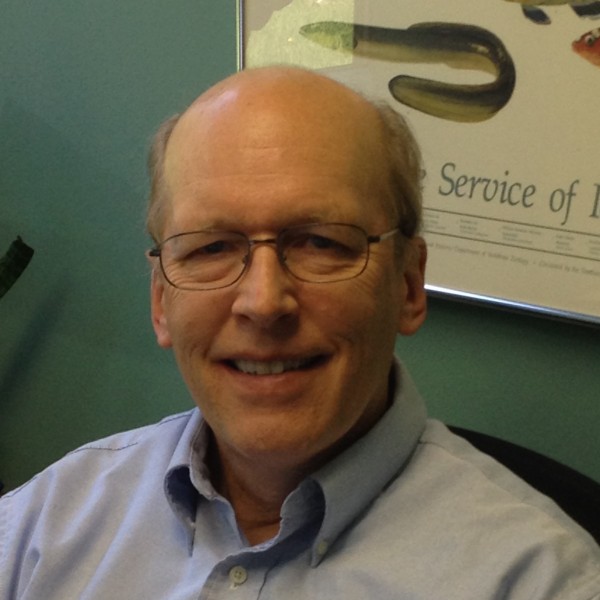 From the desk of the AFS Policy Director
(about Tom Bigford)
IIn our continuing effort to develop recommendations on aquatic resources for the next U.S. President, AFS hosted a gathering of 15 fish specialists representing state and federal interests, environmental groups, and industry associations on February 9th. The discussions added nicely to a fact-finding effort that will continue through March. Look for an interactive page on the AFS website to submit your ideas or comments.
Following up on earlier actions, and focused on the bill Congress passed last October that set the spending framework for fiscal years 2016 and 2017, AFS joined the Theodore Roosevelt Conservation Partnership and its network on February 9th to sign a letter encouraging House and Senate leaders to maintain their commitment toward solid reinvestments in key conservation programs across a wide spectrum of agencies. The letter specifically urges leaders not to revisit those budget decisions from last fall or to reprioritize conservation programs or funding levels. AFS will continue to track this activity.

Steve Lochmann - Joe Hogan Award for Individual Achievement
The Arkansas Chapter of AFS recently awarded the Joe Hogan Award for Individual Achievement to Steve Lochmann. Lochmann, professor of aquaculture and fisheries at the University of Arkansas at Pine Bluff, received the award at the annual meeting of AFS at Fairfield Bay. Lochmann, a member of AFS for more than 20 years, is a former president of the AFS Arkansas Chapter and the Southern Division. He is associate editor for the North American Journal of Aquaculture and is president-elect of the Fish Culture Section.
David Tannehill - Fishery Worker of the Year

David Tannehill, a fisheries technician with the Georgia Department of Natural Resources' Wildlife Resources Division, recently was recognized by the Georgia Chapter of AFS as "Fishery Worker of the Year." "David is a model team player, always bringing his best to whatever task he sets out to do," said Steve Schleiger, fisheries region supervisor.

Local scientists connect health of Susquehanna River to small mouth bass populations
Local environmental scientists and educators discussed the health of the Susquehanna River and its possible effects on Smallmouth Bass during a meeting of the Pennsylvania Chapter of AFS.
Mel Zimmerman, Ph.D., director of Lycoming College's Clean Water Institute, shared the contributions students made to the Pennsylvania Fish and Boat Commission's Unassessed Waters Project over the past several years. Peter Petokas, a research associate with the institute, discussed the use of artificial habitat structures to help study eastern hellbender salamanders. Senior biology major Clayton Good provided an exhibit that showed the growth rates and population levels of brook trout on the Hammersley Fork and Cross Fork stream systems in the Kettle Creek Watershed in north central Pennsylvania.
Young Professional / Student News
Deadline Ending Soon!
Applications are due March 6 for the 2016 International Fisheries Section Fellow Award, providing travel for a student or young professional to present a poster or oral presentation at the Fisheries Society of the British Isles Annual Symposium, July 18-22, Bangor University, United Kingdom.
2016 Science to Action Fellowship for Graduate Research: Open for Applications!
The National Climate Change and Wildlife Science Center, in partnership with Michigan State University, is accepting applications for the 2016 Science to Action Fellowship. Two fellowships of $10,000 will be awarded to policy-relevant research projects that investigate climate change impacts on fisheries and/or wildlife. Graduate students at any Climate Science Center consortium institution or Michigan State's Department of Fisheries and Wildlife are invited to apply. Deadline: March 15, 2016.


Spend the Summer with AFS! AFS Policy Internship
AFS is offering up to two summer internships for current AFS members to work in an office setting on a range of fish policy priorities. Our primary intent is to provide a paid, summer opportunity for a one or two undergraduate students. Internship tasks will be designed to assist the students on decisions related to graduate school directions and the connections of science and management to fish policy.
Applications must be submitted by April 1, 2016, as attachments to email, sent to Mr. Taylor Pool at tpool@fisheries.org . Each application must be accompanied by a cover letter explaining interest in the internship and including the AFS member number.

A Sonogram for Sharks? UM Develops a Daring Pregnancy Exam
For years, warm shallow waters in a corner of the Bahamas have drawn an astonishing number of large tiger sharks, mystifying scientists studying their epic migration patterns.
Now a team of scientists, including University of Miami shark expert Neil Hammerschlag, may have their answer thanks in part to a new study technique relying on ultra sound. As in the kind to check tiger shark baby bumps.
Ocean Acidification Causes Young Corals to Develop Deformed Skeletons
Coral reefs around the world are facing a whole spectrum of human-induced disturbances that are affecting their ability to grow, reproduce and survive. These range from local pressures such as overfishing and sedimentation, to global ones such as ocean acidification and warming. With the third global coral bleaching event underway, we now more than ever, need to understand how coral responds to these stressors.
Our new research, published in Science Advances, now shows that young corals develop deformed and porous skeletons when they grow in more acidified waters, potentially making it more difficult for them to establish themselves on the reef and survive to adulthood.

Solving 'Darwin's Paradox': Why Coral Island Hotspots Exist in an Oceanic Desert
It was Charles Darwin, almost 200 years ago, who first asked how it could be that coral reefs could flourish in relatively barren parts of the Pacific Ocean. This conundrum subsequently became known as Darwin's Paradox.
A study published this week in Nature Communications helps answer just how coral oases can exist in oceanic deserts.
The simple explanation is the presence of microscopic aquatic plants known as phytoplankton. The more complicated, scientific answer – that asks why coral islands are such productive hotspots – is known as the Island Mass Effect (IME).
Newsletter Editors
Sarah Harrison
Beth Beard